This is the original account which formed the basis of an article published in the November 2022 Caversham Bridge
by G. CROCKETT, 1939
I HAVE BEEN asked to write the story of the sinking of the liner 'Athenia', and I will endeavour to record the events exactly as they happened.
I was appointed Second Officer of the Donaldson Atlantic liner 'Athenia in April 1939, and enjoyed sailing in her between Glasgow, Liverpool, Belfast and Montreal.
She was a ship of some 13,000 tons and was probably the most popular ship on the Canadian trade. Built in 1928, she had several times been completely modernized, and newer vessels were never as popular as the 'Athenia'. Her public rooms and accommodation were almost palatial, the services given to travellers by her crew was well known on the North Atlantic as of the best. Many travelled in her repeatedly, chiefly because of her comfort. Her owners took a very real personal pride in their 'Athenia', and her crew were very proud of the good name she had in shipping circles.
At Glasgow, our home port, the week preceding the outbreak of war was a busy and anxious time for all of us. It was quite heartbreaking to see our fine ship being prepared for possible enemy attack. Our usually gleaming brass rails were covered with canvas; every window was painted black inside and out; sand was dumped in convenient places for sandbagging purposes, and electric bulbs were removed from all possible connections. We all talked anxiously about the tactics to be employed in case of attack by an enemy. On Friday 1st, we sailed.
We have 1,100 passengers and a crew of 300. Some hundred extra beds were hastily erected in the public rooms to accommodate the exceptionally large number of passengers, many of whom were Americans who had been stranded in this country, and who were willing to sleep anywhere if only they could get back home. Of the 1,100 passengers, about 800 were women and children.
We left Liverpool on the Saturday, the day before war was declared, but when there was little hope that hostilities might be averted. On Saturday night all passengers were advised to keep off the upper decks, and smoking on deck was prohibited. We steamed up the Irish Sea with only three dimmed navigation lights visible. Inishtrahull, the northernmost point of Ireland, was passed at 5 a.m. on Sunday morning, and we set our course for Montreal. At 8 a.m. I was on duty in charge of the bridge and, at about 11 a.m., I was handed the official wireless message warning us that we were at war. Within a few minutes, all available crew were busy preparing our lifeboats for immediate use, and extra lookout men were stationed. Some of our officers suspected we might be attacked by enemy surface raiders, though I thought submarine attack more probable. I had little doubt that German submarines had been sent out before war was declared to attack allied shipping. I spent all Sunday afternoon revising anti-submarine tactics, bathed at six, promenaded the deck until seven and then went to the saloon for dinner.
My table companions were six college girls on vacation from Texas, all glad to be on their way home. They proved to be very cheerful company and helped me to forgot the anxious times I felt were in store for us.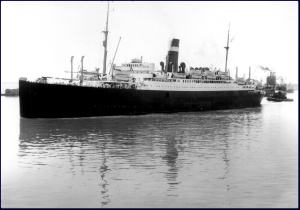 At 7.35 p.m. I had finished dinner and was about to leave my table, when suddenly without warning a terrific thud shoot the 'Athenia', and every light in the saloon was extinguished. The ship lurched over immediately and we were all thrown to the floor; tables, chairs, crockery and cutlery fell with us creating a terrifying noise. Throughout that tragic night nothing frightened me so much as that sudden deafening crash and the immediate darkness. There was no doubt in my mind as to the cause, and I felt that we were all going to be trapped in the saloon. Our windows were painted black inside and out and it never occurred to me that it could yet be daylight. I managed to get up and with the aid of light from matches joined the stream of people moving up the main stairway. I was just carried along in the crowd, I don't think my feet touched the stairs once. Fortunately, I slipped clear and found the private stairway leading up to the officers' accommodation. It was very dark and the ship was lurching over quickly. I think most of us decided that orders to abandon ship would be given almost at once, and I well remember the succession of short blasts on the syren. I had heard them so often before at boat drills, when they meant a last minute hunt for uniform gloves and the best cap; now they meant the real thing under the most trying circumstances; no time for gloves or cap, no time but for the most difficult task, that of getting a full complement of passengers away in the boats. I reached my room. There everything was in disorder, furniture flung across the room, all my possessions mixed up. I saw my pipe and tobacco, my lifebelt and boat list, I grabbed them and ran.
I was surprised to find it still daylight. I think that helped me along more than anything else. In the darkness I foresaw the hopeless task, no lights, 1,100 souls, 26 lifeboats to clear away and very little hope of averting disaster. In daylight, there was a chance of turning disastrous confusion into order.
I was in charge of four lifeboats on the forward deck and should have had some 250 persons to control. Quite double that number came to my station. Despite two practice boat drills, many seemed to think my four boats would accommodate them irrespective of their previously allotted boat stations. The experience of frequent boat drills saw its usefulness and after rejecting some 250 persons we managed to lower our four lifeboats into the water with their full complement of passengers. It was a very trying experience to turn away so many women and children, but an overloaded lifeboat is as bad as none at all. Every person had an allotted boat number, and to the boat bearing that number they were sent. I did see a few anxious mothers trying to pass me after having been turned back, but I often looked the other way. Some came with bundles and suitcases, all of which were taken from them. Some were obstinate but not a second time, and there were no explanations. I wondered how many of these unfortunate people, many of whom were refugees from persecution in Europe, were forfeiting their life's savings. I wonder now if they might be thinking of me as a bully too – then then I felt it a duty to forbid the saving of property at the possible expense of life.
Our lifeboats were lowered in very orderly manner and I saw them drift away – a crowded muddle of humans set adrift in open boats 200 miles from the nearest land. I felt greatly relieved to see my lifeboats in the water and clear of the 'Athenia', and I had time to feel proud to be one of the men responsible for having accomplished such a difficult task without a single injury.
By 8.30 p.m., just one hour after the ship had been torpedoed, every living person except the captain and certain officers had been safely sent from the sinking liner. About 50 persons were killed or drowned as a direct result of the explosion. The successful task of saving some 1,350 people from a sinking liner is one which calls for the very highest praise of crew and passengers alike.
The few of us left on board did our best to keep cheerful. We stole cigarettes from anywhere we could find them, and we sat on the deck in complete darkness and discussed the situation. In the distance we could see the red distress flares of the lifeboats; then in a second they would disappear intro the trough of the Atlantic swell.
By 10 p.m. the captain decided we should abandon ship. I was sent to advise the wireless operator who had worked continuously on the emergency wireless set. He handed me the very last message the 'Athenia' received and I had it now. It was, strange to relate, sent by the American steamer 'City of Flint', which is well known as the ship whose capture by a German cruiser caused considerable discussion.
Shortly after 11 p.m. we signalled a motor lifeboat to come alongside and take us off and we left the 'Athenia' to her fate.
The officers were distributed among the other lifeboats; my turn came first and I was transferred to Number 2 lifeboat. It was a dangerous jump from the motor lifeboat to my new command and I landed among a boatload of 80 persons, mostly women, including several American college girls and several children. I hesitate to commend any particular individual action, because I know some of the acts of heroism were unseen and because each who did his duty, no matter how inconspicuously, deserves his share of credit. I will, however, mention these American girls; there were about twelve of them in my lifeboat and their courage was outstanding. They sand, they pulled at the oars, they obeyed orders to the very work, and later on board the rescue ship worked unceasingly in caring for the distressed.
We tossed about on an uncomfortable Atlantic swell; it rained; it was dark and very lonely; an occasional white form on the top of a swell indicated another lifeboat near us, and the dark outline of the 'Athenia' could still be seen.
Several ships were racing to our rescue and, sure enough, at about 1 a.m. on Monday morning I made out a white light, far off on the horizon. For an hour nobody in my lifeboat saw it but myself, for I hated to raise a false hope. Slowly it came nearer and, at last, at about 3 a.m. we could see the dark shape of a cargo steamer which proved to be the Norwegian motor vessel 'Knute Nelson'.
My lifeboat was the third to reach her. My passengers were hove up her steep side one by one by means of ropes. I was last. I cast my boat adrift, yelled frantically for those on the rescue ship to haul, and then hung on to my rope. Up I went and willing hands pulled me aboard. About eleven more lifeboats came to the 'Knute Nelson' and, in all, she saved 600 souls. Other lifeboats went to various other rescue ships. Unfortunately, one lifeboat was cut in two by a moving propeller while going alongside the rescue ship, and about 60 persons were drowned. Incidentally, I had the distinction of hauling up a titled lady by means of a good tight hold on her corsets; she slipped and came up feet first!
We left the tragic scene of a cowardly crime at 4 a.m., and proceeded to Galway on the west coast of Ireland. The Norwegians treated us most kindly. I lost all my possessions except the clothes I wore. I lost my voice completely for two days as a result of shouting orders, but I lost no sleep on the rescue ship. I had lots of it, mostly on the floor of the captain's room, and between two American college girl friends!
At Galway, the whole town turned out to greet us, and I have very pleasant memories of Irish hospitality. After Galway, Dublin and Belfast and home to Glasgow, a sad homecoming because we had lost our quite beloved 'Athenia', yet glad because of the reunion with those from whom we were no nearly parted.
The 'Athenia' has gone, first victim of the war, torpedoed eight hours after war was declared; torpedoed without warning of any kind, and then left to her fate without any regard for the harmless souls left aboard her.
She had no guns either mounted or otherwise, nor did she have gun mountings. She carried no ammunition, no troops, no bullion and very little outward cargo of a general nature, so she could not possibly be a menace to the enemy. She was a beautiful ship on a harmless voyage, with harmless people aboard her, and she fell a victim to a cowardly attack ordered by a coward who left 1,400 souls to drown 200 miles from land.
I spent a month on the west coast of Scotland recuperating after the ordeal and then prepared for further sea service.
After several attempts to obtain shore employment, I was fortunate enough to obtain a post as Instructor in Aerial Navigation and so now I deliver lectures on the mysteries of navigation. Sometimes I fly and I enjoy it. I live in the heart of the country in Scotland, with my family. I was flying at 7,500 feet this afternoon; it was a thrill.
At five sharp, I got my new Raleigh sports out of the hangar, and rode her five miles along the lonely country roads, and now I am finishing this account in my home by the fire.
The 'Athenia' is very much in my mind tonight; so are the members of her splendid crew, who served her so well and who accomplished a very difficult task so successfully. As her second officer I am proud to have been a member of that crew who saved 1,280 persons of her complement.
Of one thing I am now more confident than ever, and that is that the younger men are every bit as resourceful and reliable as their elders. During the rescue work if the elder men shone, then all I have to say is that the young men (and women) simply blazed with light!