ALIVE WITH THE SOUNDS OF CHRISTMAS
THIS DECEMBER there will be ample opportunity for local residents to gather together and sing their hearts out as we approach the arrival of Christmas. After the dark days of the pandemic, the age-old tradition of carol singing is well and truly back, and there will be an enticing array of Christmas concerts in the coming weeks – surprisingly varied in their offerings – during which audiences will be invited to rise to their feet and join in with many of our beloved carols …Read more
So much more than just a dip in the past
AS WE look forward to Christmas and the New Year, it is a good opportunity to thank all who have helped with the production and delivery of the Caversham Bridge over the last year. Nearly 100 volunteers help with distribution and delivery, and as many people have written for the paper. This year we have focused on volunteering, and encouraged our readers to help in whatever way they can. We have recently learned of a shortage of volunteer drivers for Caversham Good Neighbours, so please consider helping if you can (p14).
We have looked at the history of our area, for example, marking the 100th anniversary of Reading Bridge…Read more
Caversham Bridge 2024 SUBSCRIPTIONS
LAST MONTH we outlined the changes to subscriptions for 2024, including the change in collecting them from January to February 2024, March 2025 and April 2026. One subscriber who pays by standing order contacted us about these changes. As a result, we are recommending that anyone who currently pays by standing order, or who would like to do so, should set up payments for £7 to go out from 1 April 2024. This means no changes will be needed to accommodate the shifting subscription dates…Read more
Scout Christmas Post – update
LAST MONTH we announced the Christmas Post for 2023 would again be provided by the 89th Reading (Milestone Wood) Scout Group, starting 25 November. The Scouts will be delivering Christmas cards to residents of Caversham, Caversham Heights, Emmer Green, and Caversham Park Village for just 40p per card.
It's a great way for us to serve the community and allows the Scouts to take part in spreading some Christmas cheer. The community will also benefit from having their Christmas cards delivered on time at a reasonable price in these challenging times. In 1982 the first Christmas Post raised £50 – a significant amount of money at the time. It allowed the Scouts to attend the Jamboree and have an unforgettable experience. Since then, it has become a tradition, and has raised hundreds of pounds…Read more
Use it or lose it
THERE HAS been a lot of discussion over bus services in Caversham Heights, particularly on Sundays. A new Sunday bus service, from Station Road to Caversham Heights, is being run by Thames Travel, route 40C. It runs hourly between Reading Station and Caversham Heights Methodist Church in Highmoor Road from 8:52 until 18:53, then returning to the station. The timetable says it runs up to Sunday December 17 but, if no-one knows about it, it may disappear before it's really got going!…Read more
For your bookshelf…
Welcome to 'Fourbears Reviews' where we briefly review a couple of titles chosen from our book shop 'Fourbears Books' in Caversham
HERE ARE just a handful of authors who, for me, create a sense of excitement when a new book comes out from them. As a reader, I can't wait to see what they've produced. Both of my December choices fall into this small number of authors.
The Snow Girl by Sophie Anderson is the perfect book for this time of year, filled with winter magic and wonder…Read more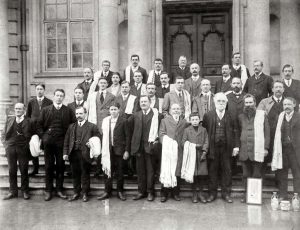 Happy Wanderer dives in with THE READING WINTER BATHERS
"AFINER set of men and youths whose ages ranged from 16 to over 70 it would be difficult to find." This view was expressed in one of the speeches which followed the annual breakfast of the Reading Winter Bathers in 1910. "There was nothing that trained a man more, either physically or morally, than for him to take his morning dip, year in and year out," said another speaker. Looking at the photograph, one can't help feeling that most of them look decidedly middle class…Read more
Make do and mend? 
Local resident and Caversham Bridge reader, Rob Whittle, recently contacted the paper following a celebration of 'Silver Sunday' at the Reading Area Men's Workshop, which is in Tilehurst. Members are drawn from across the Reading area and the chair, Barry Fowler, is from Caversham.
THE SILVERS' Workshop is a local charity where (mainly) older men meet to socialise over projects in wood and metal. They make and mend things together, working on their own projects and using their skills for the benefit of the community. The Workshop aims to support men's health in general, and to tackle loneliness. It is one of over 300 men's sheds in the UK, and there are many more in Australia (where they started) and elsewhere…Read more
A Light in the Window: Charles Dickens' A Christmas Carol
ONE OF THE great delights of moving from Canada to Caversham last year was discovering so many literary connections in the area. This somewhat compensated for the great disappointment of discovering that Reading is, in fact, pronounced quite differently from what I had expected! One such connection is Charles Dickens, who not only read work and performed with his company locally, but was also invited to run as MP for Reading – he declined. Fittingly, one work he read in Reading in December 1854 was A Christmas Carol.
I often think of scenes from A Christmas Carol at this time of year, as shorter days and colder temperatures make walks seem decidedly unappealing. As we meet Scrooge on Christmas Eve…Read more
Green Christmas Tree Sale at Caversham Court
READING ECONET will be running their annual sale of Scots Pine Christmas trees at Caversham Court Gardens on 2 December, from 9:30 to 13:00. We will be joined by a range of charities selling environmentally friendly Christmas gifts. Local honey and beeswax candles from Reading Beekeepers; the Royal Society for the Protection of Birds with a range of goods, including food and homes for garden birds and hedgehogs; beautifully turned wooden bowls and light-pulls by our local woodworker; and Fair Trade offering a wide range of food and gifts from around the world…Read more
Have yourself a merry, greener Christmas
WHETHER YOU are buying Christmas cards and wrapping paper for this year or getting organised to buy stuff in the sales for next year, please go eco-shopping. Cards with shiny bits, glittery bits or in-built jingles are all less recyclable than simple cardboard. Similarly, foil wrapping paper is not recyclable in your household collection, whereas printed paper wrapping can go straight in…Read more
THE JOY OF GARDENING??
IN PREVIOUS articles I have usually implied that December is a month to take it easy, a time when we gardeners can sit back to relax and dream as we peruse our garden catalogues. Sadly, I now realise that writing this type of remark has lumbered me with a slight curse! For example, last year at this time I wrote about how good my bushy salvias were and, how although they are tender, with the mild winters we have these days a mulch should provide enough winter protection…Read more
Star in the audience…
THE GLITTERING array of events which made up Concerts in Caversham's Autumn Festival of Music and Art were enhanced by the arrival of star actress (and author) Celia Imrie. Celia, whose credits include The Best Exotic Marigold Hotel and Mamma Mia! Here We Go Again, was treating her eldest sister Rosalind – a fan of harpist Catrin Finch – for her birthday. The sisters were delighted to meet Catrin and violinist Aoife Ni Bhriain at St Andrew's Church. The festival ended with an extraordinary concert in Queen Anne's School during which the CinC Chamber Orchestra performed Vivaldi's Four Seasons intermingled with Four Seasons of Buenos Aires by Argentinian composer Piazolla, arranged by Desyatnikov. In previous concerts we were treated to solo guitar, chamber music for strings, and an evening of vocal music…Read more
The Local Scene – Caversham Working Men's Social Club
THE SOCIAL CLUB has a long history. Established in 1908, the doors opened in January 1909. Originally it occupied a building which had formerly been school classrooms, part of the Caversham House Academy. The main school building was a Georgian house on the opposite side of Church Street (now the site of the precinct). A Mr Frank Knighton bought the house in 1849 to set up a school which, by 1852, had one hundred boarding and sixty day pupils.
In 1872 it was decided to construct a tunnel linking the premises on each side of the road to provide a safe passage for the students. Next to the rooms now occupied by the social club was the school playground, which later became the site of the library and the Glendale cinema, now the New Testament Church of God.
The Social Club was rebuilt in 1934, and Janina Maher's drawing shows the rather elegant brick architecture of the façade. At either side of the classical pediment, the short pillars have stained glass panels set into them which can be illuminated at night. Look above and you will see a weathervane bearing the initials of the original school founder…Read more
FIRST IMPRESSIONS MATTER – Hidden Jobs
YOU MAY have heard of the hidden job market and wondered what it is. It's not a mystical place like Diagon Alley but refers to job opportunities which are not advertised but filled through other means. These job openings are not publicly posted for various reasons, such as maintaining confidentiality, not tipping off current employees, or saving time and resources…Read more
Beyond Potholes
At a recent Caversham Traders meeting, the issue of roadworks in our area was raised. We asked local councillor Jacapo Lanzoni if he could provide an update on road resurfacing in our area.
IN 2020, READING Borough Council (RBC) announced a £9m investment programme in the Borough's roads for the 2020/21, 2021/22, 2022/23 financial years.
The first phase of the scheme saw hundreds of residential roads resurfaced between October 2020 and March 2021. Amongst these, many were north of the river: Paddock Road, Piggotts Road, Wolsey Road, Hemdean Rise, The Slopes, Falkland Road, Hemdean Hill, Upper Warren Avenue, Eric Avenue, Cavendish Road, Chiltern Road, Haldane Road, Newlands Avenue, and part of Peppard Road…Read more
Have a Beauty-Full Christmas
IT'S THAT time of year again, and each year it creeps up on us quicker than the last! I thought it may be helpful to write a little article on Christmas beauty treatments, and Christmas gift ideas. With lockdowns 'long' behind us, this year more of my clients are looking forward to attending work parties and social events.
It's a great chance to let your hair down and get glammed up. Beauty salons like mine are booked up far in advance as regular clients plan their Christmas treats months ahead. So, if you haven't yet, get in touch with your salon and book in…Read more
WELLBEING
Whether you think you can, or you think you can't – you're right. Henry Ford
WILLPOWER, ACCORDING to the American Psychological Association, 'is the ability to resist short-term temptations in order to meet long-term goals'. And understanding willpower is essential in recognising why we behave as we do, and in developing resilience.
Studies show that people are less likely to quit a task when told their resolve is not a fixed point, but is unlimited. So, what determines whether we accomplish tasks or not…Read more