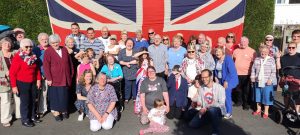 GETTING TOGETHER TO MARK THE NEW REIGN
ROADS ACROSS Caversham and Emmer Green took up the opportunity to hold street parties during the coronation weekend and Bank Holiday. Elstow Avenue in Caversham Park Village (pictured right), and Blenheim Road in Caversham, were among those who put out the bunting, picnic tables and even marquees when the sun threatened to shine. It was an opportunity for neighbours to gather, and a lovely chance for children to play together in the street…Read more
In Praise of June
I HOPE you were able to make the most of the May Bank Holidays, despite the unsettled weather. Whilst our day of the Coronation was very wet, the sun did shine for at least some of our Coronation street parties (see above).
This is our 700th edition, and for our Creative Caversham article, Elestr Lee was delighted to be able to talk to local resident and superstar Liz Mitchell, lead singer with pop group Boney M, who will be headlining at Henley Festival in July (p12).
We have several articles with an environmental theme this month. Recycling links the work of Emmer Green resident, Wendy Howell, to prevent unwanted bras going to landfill while raising funds for her church (p4), and our item on bottle banks (p15)…Read more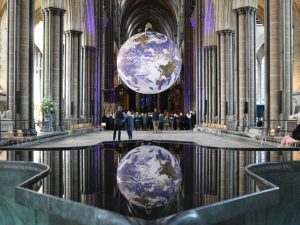 Reading Climate Festival and National Big Green Week 10-21 June
THIS YEAR the Climate Festival in Reading is being held in association with The Great Big Green Week, which is the UK's biggest ever celebration of community action to tackle climate change and protect nature. The Festival begins at Waterfest (Forbury and Canalside) on 10 June with a series of short talks in the climate marquee, together with tables manned by experts to answer all of your questions (we hope!). The following ten days offer walks, talks, and advice on environmental education, and finishes with a youth fair on 'Show Your Stripes' day on Wednesday 21 June…Read more
News from the editors
THIS MONTH we mark the 700th edition of the Caversham Bridge newspaper. It was first published by the Churches in Caversham in 1964 with the aim of bringing all the church communities in the area together. The paper has chronicled events in our community since then, evolving over time to reflect changes in both society and printing technology
Midsummer Music
THE MUSICIANS of Concerts in Caversham invite us to an evening of boisterous good fun, nostalgic melodies and unashamed romanticism at St Andrew's Church. A select group of their regular performers join together for an evening of wonderful chamber music on Saturday 17 June at 19:30…Read more
Bras raise funds for St Barnabas
EMMER GREEN resident, Wendy Howell, has raised over £1,100 for her church, St Barnabas, through selling new and second-hand bras.
Each month Wendy receives bags full of new and second-hand bras from a local charity shop which is unable to resell unpackaged bras. Instead of sending them to landfill, Wendy uses her creative and fundraising skills, to sort, photograph and sell the bras online on the second-hand clothing site Vinted (www.vinted.co.uk). Each is sold for a few pounds and the proceeds donated to St Barnabas…Read more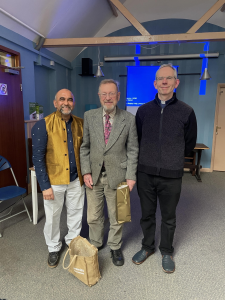 Lent learning at St Andrew's
EACH YEAR, St Andrew's Church in Caversham hosts a Lent Address from a guest speaker. This year, at the end of March, we invited Dr Ashok Sadashiv Khare to speak about the beliefs and practices of Hinduism. Dr Ashok was born in Mumbai and qualified with a PhD in Chemical Technology. He arrived in the UK in 1999 and is Head of Chemistry at Shiplake College. He is Chairperson of the Executive Committee of the Reading Hindu Centre in Whitley Street.
He gave a talk with a PowerPoint presentation. Hinduism, which originated over five thousand years ago in India along the Indus River, highlighted the rites of living abiding by the simple laws of nature. There is no single holy book nor a single style of worship. He explained the four pathways to pursue God…Read more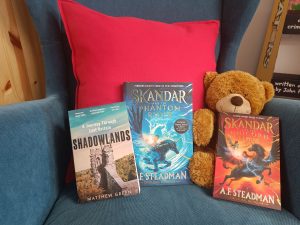 For your bookshelf…
Welcome to 'Fourbears Reviews' where we briefly review a couple of titles chosen from our book shop 'Fourbears Books' in Caversham. A couple of customers have suggested I should include an interesting book industry fact, so we'll start this month and see when I run out of facts. The first one is below the reviews.
MY FIRST choice this month is a non-fiction book: 'Shadowlands' by Matthew Green is a journey through the lost towns and villages in Britain. Green does an excellent job of weaving character, history and place together. Each chapter focuses on a different location, as we visit eight different Shadowlands, including a city that fell off a cliff and an abandoned village which now feels like it's full of the ghosts of the community that once was. A brilliant gift for historians, but equally enjoyable for those who want to try something different…Read more
Happy Wanderer explores CLIFTON, SURREY, SUSSEX …AND VICTORIA
T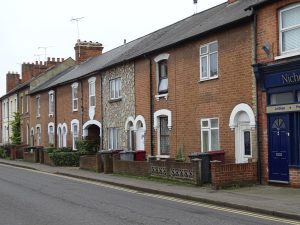 HE ARTICLE in the February edition about the Clifton Arms pub asked if anyone knew the origin of the pub's name, and the reason for the naming of Sussex Place, across the road. The challenge was hard to resist!
The first record of a 'Clifton' in Caversham seems to be a newspaper report in February 1864, when an Edward Walden was living in Clifton Terrace. The bicentenary history of Brakspear's Henley Brewery says that in the same year, William Brakspear bought the Clifton Arms beerhouse, suggesting that the beerhouse was already there. So when we read in the 'Berkshire Chronicle' of 1 September 1866 that, "On Thursday last a new licence was granted for the Clifton Arms by the Henley magistrates," the words 'new licence' probably mean there had been a previous licence for the beerhouse. Between 1864 and 1866, the brewery must have rebuilt it, much bigger, with bay windows and tile-hanging…Read more
CELEBRATING OUR VOLUNTEERS
SINCE FEBRUARY, we have been featuring the importance of volunteers in our community. This month, as we mark our 700th edition, we put the focus on our own band of volunteers who produce, distribute, and deliver the Caversham Bridge.
Since its first publication in 1964, the Caversham Bridge has depended on a team of people who give their time to support this community publication. We have nearly 100 people involved in the distribution and delivery of the paper. The papers arrive from the printers on a pallet and are collected for onward distribution by a couple of drivers, who each pass on batches to about half a dozen distributors. They in turn will drop the papers off to between 6-12 individuals, who deliver them to our subscribers…Read more
Eating for Victory
WHEN RATIONING ended in 1954 it was found that, despite years of privation, average Britons were far healthier than those of previous generations, and nutritionists now credit a wartime diet founded on vegetables and grains. Only small amounts of meat and fats figured in the wartime menu, and these ingredients were stretched to add flavour, rather than forming a main course.
The recipe below is adapted from a pamphlet produced by the Ministry of Food…Read more
Supporting local gardeners
EANPOLE DAY at Caversham Court on 22 April this year was busy from opening time at 10:00 until the drizzle started at 14:30. Forty-six bundles of hazel beanpoles, cut from local woodlands as part of
their conservation management programmes, headed out of the site to allotments and gardens, along with bags full of plants. Tomatoes, courgette and herbs sold well, alongside replacement herbaceous plants and wildflowers.
People were encouraged to grow their own, with a seed swap stall run by Reading Food Growing Network, to purchase Fair Trade goods, and to assist in conservation and climate change actions by Econet and the Tree Wardens…Read more
SHOW TIME
I HAVE always enjoyed horticultural shows, and one I remember well was in 1959. It was the famous Chelsea Flower Show and I went to look at the magnificent stands exhibited by the likes of Suttons Seeds, Carters, Allwoods and many others. My interest then in delphiniums was nil, but I did remember my Dad, a good gardener, once growing some lovely blue spikes. But it was a fleeting attraction.
At Chelsea, as I strolled towards the main marquee I probably didn't know a delphinium from a dahlia…Read more
Plant of the Month –June
LIKE MOST gardeners, I tend to be drawn to the stars of the season – those plants which have flamboyance and charm whether through spectacular colour, scent, or bloom – like roses. There are, however, the supporting players that quietly get on with their jobs and cover the ground and skirts of the big players. I'm talking about ground cover.
Taken for granted and often unappreciated, ground cover plants do an amazing job of acting as a living mulch by keeping the soil moist and, in some cases, holding the ground together on sloping ground,  slipping…Read more
A SILVER LINING
FOR CLAIRE and Jodie from NOOD Store and the Caversham Artisan and Farmers Market, a quiz night at Alto Lounge ended in a nightmare when they came home to find their house filled with smoke and fire alarms going off.
A fault with a light fitting had caused a fire to start in the ceiling. Prompt attendance by the Fire Service limited the damage. However, there was smoke everywhere, the floor needed to be replaced, and they lost their cat. Her body was found by the Fire Service, and they were told smoke inhalation had taken her. When they checked their house insurance, they discovered it had just run out. Like many of us, they had been busy and had not got round to renewing it. As Jodie said, "We all think it won't happen to us…"…Read more

The Local Scene – Visitation Convent
Janina Maher's drawing this month is of the building that stretches between St Anne's Church and Presbytery and St Anne's Primary School in South View Avenue. Today the building has been converted into a number of modern apartments – I well remember the major building work that involved raising the roof and constructing a new gable end to provide more accommodation. Originally the building was a Catholic convent belonging to the Visitation Sisters of Ghent in Belgium. In 1902 the sisters were invited to establish a community in Caversham, mainly to provide teachers for St Anne's School next door. At its height there were eighteen sisters living there and worshipping in the lovely chapel housed in the building. Sadly, in the 1970s the number of nuns declined, those who remained became elderly, and the last two sisters left the convent in 2005…Read more
First Impressions Matter – Is AI the future of CV writing?
Artificial Intelligence (AI) is a term we're hearing more of but, if you've not heard of it, here's a brief outline from a luddite!
THERE ARE a few chatbots including OpenAI, ChatGPT and Google Bard. These understand and generate answers to text questions, like a friendly robot. They have been trained on large amounts of information including data from the internet, books, and social media. I'll refer to them as ChatGPT as it's the only one I've played around with (got some good menu ideas!), and it is the most common…Read more
Wellbeing – Life's work
IF YOU have been in a children's playground recently, you may have seen a distracted parent absorbed in an intense phone conversation, swatting a child away.
Sure, some are ordering tickets for the school play, but most are not — they are working. They might have knocked off officially, be on leave, or it might be a weekend. But as surely as if they were in the office, they are at work.
Many of us know that tug of war: the child's pressing need is pitted against a complex issue on the other end of the phone demanding every neuron we can muster…Read more